Extra! Extra! Read all about it!
It's been a long winter here in Colorado with a lot of awesome days on skis ripping through soft fluffy powder. Recently we've been teased with a couple warm days and it has definitely gotten us excited about the arrival of Spring wildflowers, camping, long rides with friends in the mountains, and rocking Conation Collective gear!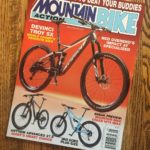 Out in California, Mountain Bike Action has been thoroughly testing Conation's kit and wrote a great review for the May issue detailing the supportive chamois, innovative design, and dialed fit! Are you into cutting edge synthetics or naturally grown merino wool? If you're on the fence, Mountain Bike Action just ran a head-to-head test of Conation Collective's synthetic and wool bib shorts. Of bib shorts in general, they say "Simply put, they work better than a standard liner because they stay in place, support more of your body and will permanently eliminate the dreaded plumber's crack when you're in the riding position." But if you're curious which bibs are for you, check out their full article!
Conation also had a little mention in the VeloNews from December and last week they released a short video of their Buyer's Guide test camp. It looks like they're still loving the gear cause it pops up in several clips! We've received a lot of positive feedback since inception but having bike magazine editors, who get gear thrown at them all the time, choose Conation as their personal riding kit is a huge honor.
Find out why the people who can ride anything choose to ride Conation Collective!