#RIMBY – A Pallet From GoWesty and a Monarch Crest Ride
Colorado's Monarch Crest ride is a perennial favorite and consistently ranked as one of the best rides in the country. And there's no better time to do it than when the fall colors are coming in across the Rocky Mountains.
Though there was a crew headed to Moab for the weekend I couldn't quite commit to a full weekend of traveling. With 3 weeks on the road coming up a Moab trip was too ambitious. When Super Dave said he was headed to Monarch Crest with some friends, and then Colin committed to joining after a couple margs at his own birthday party, the decision was made.
To make the weekend even better, a literal pallet of parts showed up for the Vanagon on Thursday. We'd been running without a spare tire since one of them exploded after the last Winter Park race, and there's a lot of other little things that were just waiting to go wrong. GoWesty.com hooked us up with a bunch of new goodies, including a set of wheels and tires that got here just in time.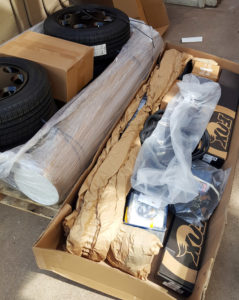 Everyone's told me that wheels/tires are one of the best and simplest upgrades that can be done to the old vans, and as we hit the corners on 285 out of Denver the difference was apparent as it no longer felt like we were going to kick up onto 2 wheels and then flip over.
After a quick dinner in Buena Vista we found some camping outside of Salida on BLM land. As soon as we opened the car door though it sounded like a rave was happening 100 feet away. Colin and I went to investigate. We found glow sticks in trees along the road so it felt like we were on to something, and after walking about a half a mile we finally came across the mini festival which consisted of a largely ignored DJ tent, and a bunch of seemingly super high people sitting around a bonfire. Less lively than we had hoped for, we walked back to our campsite at least glad to have settled the mystery.
The next morning someone made the mistake of checking the weather and found out we were in for a really cold morning and possibly snow. Seemed like the perfect excuse to get breakfast burritos at the trailer/restaurant near the shuttle point.
The ride itself was definitely cold to begin with, but as we got down below treeline and it got later in the day we warmed up. Colin's really good at pushing my comfort level on the descents but we traded some pulls off the top of the ridge and got appropriately sketchy though a couple rock gardens. Unbeknownst to us, there was actually an organized ride on Monarch that day so we had perfect trail directions.
As always, I bonked hard on the last section of Monarch – those descents and climbs into and out of the creek beds always kick my ass.
We got back into Denver almost exactly 24 hours after leaving which was the perfect mountain bike camping trip for my weekend. It's awesome when we can just throw cares to the wind an peace out for days of riding, but between owning a business and other life responsibilities it's great to take time that's available and get out with the guys to rip some trails.