Winter Park to Boulder over Rollins Pass
A couple friends were headed to Granby Ranch and Winter Park last weekend for a weekend of downhilling, camping, and general shenanigans. I was down for most of that, but wasn't feeling two full days of downhilling because my fork is oversprung, and I haven't gotten around to ordering a lighter spring so it gets uncomfortable. …after writing that sentence I've realized there's the distinct possibility I'm just a baby. But whatever, I packed two bikes – DH and XC – and headed into the mountains.
Downhilling
The riding at Granby Ranch was awesome. Super technical rock lines that reminded me of my east coast upbringing, steep lines, a couple rhythm sections, and a blind ladder drop pasted a grin on my face that lasted well into the evening.
After a quick stop at the grocery store, we found a cool camp spot on the west side of 40 and set up camp.
The climb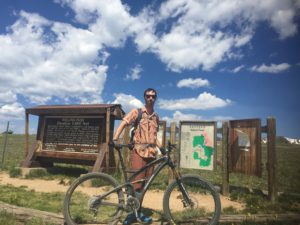 The next morning was the ride I was really looking forward to. My friends drove to Winter Park, dropping me and my XC bike on the access road to Rollins Pass. I started pedaling from there, following dirt roads next to a small canal, across amazing viewpoints, and around old rail lines. I remembered this being a really long climb, and it is about 10 miles of continuous uphill, but as I started to near treeline I knew I was making good time.
The top of the climb was a bit annoying with puddles and insects everywhere, but I got to the continental divide before any rain clouds and began the light descent over some ancient railroad trestles. I don't expect those trestles are going to collapse anytime soon, but that possibility crosses my mind every time I'm 50 feet off the ground.
Over the Continental Divide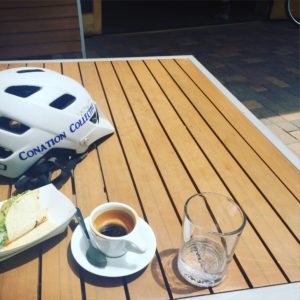 I followed the trail towards Eldora, and then into Nederland where I picked up a spare tube and espresso before heading back up to the High School Trails. I took the High School Trails to West Mag, crossed Peak to Peak Highway, and continued onto the Dots.
I had no idea why, but I felt great. No energy crash, no mental fatigue, I was just cruising along like 35 miles of dirt was no big deal. It never occurred to me that I rarely drink coffee so a mid-ride espresso was like superpower juice. At the end of the Dots I crossed Magnolia to find the stunning views on Winneger Ridge, and only on the dirt road climb back to Magnolia Road did I start to feel tired. ..probably in part because someone told me a mountain lion had been spotted nearby, and there's nothing like a massive predatory animal to remind me of human frailty.
Back to Boulder
By the time Magnolia changed to pavement, I had ridden 43 miles of dirt, mostly singletrack, with 5000 feet of elevation. It's exactly this type of Colorado exploring that gave rise to Conation – from the campsite to the Continental Divide to the coffee shop all in one awesome outfit.
Check out the Strava profile here.