Exploring Lebanon
Boulder, Colorado has an awesome little Thursday tradition of getting a couple hundred people together to ride bikes, ring bells, and wish everyone they pass a "Happy Thursday." When I was in undergrad at CU Boulder this was the only place to find me on a Thursday night, and I met a lot of awesome people during the circle-of-death dance parties that usually wrapped up the evening. I hung out a fair amount with a lovely young woman named Amelia, and after school she left to go make the world a better place. I don't mean that in some general complimentary way, I mean she moved to Khartoum, Sudan and Dushanbe, Tajikistan and Beirut, Lebanon, and a handful of other places I had to look up on a map. I've been saying I was going to visit for some time but a litany of excuses always got in the way. Now that it's fall and Conation is chilling out a bit I decided to finally make good on my promise to visit. So I hopped one of the worst flights of my life on Pegasus Air, and after a short layover in Istanbul arrived in Beirut in the middle of the night.
I've gotten pretty accustomed to dirt-bag traveling, but I got the same butterflies wandering around Beirut that I had when I first started exploring Ecuador years ago. I woke up slowly the first day, taking my time to stretch on the blown-out mattress that was held off the floor by shipping pallets. I got dressed into the Plaid Western Jersey, thankful for its lightweight fabric, and a pair of jeans because despite the climate everyone still wears pants. I spent Monday and Tuesday cruising through the neighborhoods and getting much more comfortable with the culture, ticking off a couple police as I tried to take pictures, and staring in awe at the bullet holes that graced nearly every building. (It's important to tell more than just the civil war narrative about this country, but I also felt overwhelmed by the violence this society lived with for decades and I feel it'd be disingenuous to omit its mention.)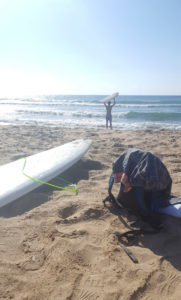 My main goal on Wednesday was to go surfing in the only surf spot the internet knew of in Lebanon. The original plan was to ride Amelia's cute Suzuki cafe racer there, but after seeing the city traffic and realizing that splitting an Uber with a Norwegian guy in the hostel would cost us $10 each, we decided hiring an Uber was the best choice. The waves were perfect for my rusty surf skills and after a couple hours of floundering around the Mediterranean in the Black Riding Shorts I came in to return the rented board. The Norwegian was practicing his Arabic with two locals on the beach and we all hung out to watch the sun set. Ahbed, one of the locals, invited us up to his family's house and after a quick glance at the Norwegian we decided to go. Ahbed had a really awesome spot up in the mountains where we listened to the coyotes howl along to the local mosque's call to prayer. Afterwards they took us back down to Beirut's posh district where we smoked some hookah, but since they don't drink alcohol for religious reasons we all enjoyed some fruit juice.
The next morning I met up with Sam – a British photographer who I had met the previous day at the motorcycle shop – for a ride. I had slept through my alarm, and my tardiness meant we had to navigate Beirut rush hour at it's peak. It honestly felt like a video game – there's no traffic rules, only suggestions, and you just have to pretend you're invincible or you'll never get anywhere. Eventually Sam led us out of the city and up some mountain roads. I was pretty surprised by the temperature dip, but the green Merino V-neck Jersey is an awesome variable temperature piece and with a flannel over top I was feeling pretty comfy. We rode over the mountain range, past a ski resort in its offseason, and even through Hezbolah strongholds. A motorcycle is such a great way to see a country, and I was so appreciative of having a tour guide who knew the fun roads.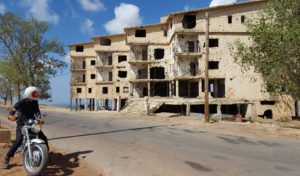 On Friday I found out that when I arrived back in the States I'd have to fly directly to San Francisco for an important meeting. It seemed like the only responsible thing to do was to make sure I wasn't jetlagged for that meeting, and the best way I could think of to do that was to party until the sun came up in Beirut. Luckily Amelia's husband owns a bar in the city so I got dressed up in the only collared shirt I had – the Plaid Western Jersey – and set out for a Friday night on the town. We went to Amelia's husband's spot, then a cool rooftop deck restaurant, then an after hours jazz club, and finally around 5am I picked up my bag and headed to the airport. Another night of dancing in Copenhagen, an early morning run around The Lakes, a trans-Atlantic flight, and by the time I arrived in SF Monday morning I was ready to talk business.