Bamboo Bikes with Container Collective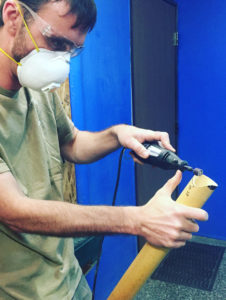 To me, commuter bikes are a utility. I need to be able to lock it outside a bar and not worry if I come back a day later. I've accepted that traffic accidents are not an "if" but "when" and I'd rather sacrifice my bike than my body. And riding every single day, no matter how good of a mechanic you are, is rough on components.
But… I do love cool bikes. So when we met the guys from Container Collective that make bamboo bikes, I decided to jump into one of their workshops. Building your own frame from a couple tubes of bamboo, some carbon fiber strands, and – let's be honest – a metric ton of epoxy is a really cool experience.
The bike's not built yet, the frame's not even clear-coated, but I'm real excited to cruise through town on such a unique ride. If you're in the area and interested in building one of your own, give Russ a shout. He seems to have infinite patience, and at the very least there's a super cute puppy in the shop.
Any recommendations on a build kit? I'm thinking two-speed kickback coaster with a flat bar and full fenders.