Moab Duathlon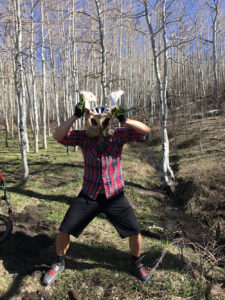 They say you can tell it's Spring time in Moab when the license plates turn green, referencing the influx of Coloradans spending mud season in the desert. We have a lot of fond memories of Moab, including testing the first round of Conation prototypes out there, but we wanted to do something new and different on this trip. When the idea of skiing the La Sals was introduced, we packed up the Vanagon with an obscene amount of gear and headed west.
Prep
Friday was spent poking around the Geyser Pass and UPS trail heads looking for the best way to link a ski line and bike ride. We rode through the construction zone that used to be La Sal Loop road, climbed a discouragingly steep 4×4 road, and hiked through peanut butter mud that added two inches to the bottom of our shoes. As the day wrapped up we snuck in a quick spin on Jimmy Keen trail, one of the most rustic trails in Moab that always puts a smile on your face. Or, in Tomas' case, puts a face on his face.
Saturday morning we woke up to significantly colder temperatures, but after a couple hiccups headed up the mountain. …at about 20 miles an hour. Apparently 4 grown men, all their bike gear, and all their ski gear is a little much for the 1.9 liter, 30-year-old Vanagon engine.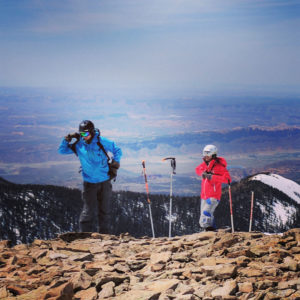 Skiing
We skied up to an unnamed peak next to the 12,000 foot Mt Tukuhnikivatz, then cruised down an amazing wide open face. We all kind of knew that we were dropping below the trailhead, but the skiing was so good no one was willing to stop. From experience, I can say that only seems like a great idea in the moment. Hiking out, sometimes skis on our shoulders, took a while to say the least.
By the time we got back to the car it was 3:00. We had intended to be on mountain bikes by absolutely no later than 2:00, but again, no one was really willing to stop. So we changed as quickly as possible and dove into UPS, aka Upper Porcupine Singletrack.
Bikes!
Tomas and Becker were absolutely charging with their bigger bikes and enduro skills. Dave was sitting in a comfortable third slot, and I was falling apart. I was picking shitty lines, crashing on stuff I knew I shouldn't be crashing on, and getting a real bad attitude about it. A stutter at the top of The Notch really shook me so I decided to take a couple minutes to myself and get my head together. When I finally met up with everyone, I knew the only way to get down was to latch on to someone's wheel and follow with blind faith. That, and chow down a bunch of sugar.
It seemed to work, because a half hour later I felt like myself again hucking-to-flat with Tomas and nose bonking rocks. We finished at the Colorado River about an hour 40 after leaving the UPS trailhead.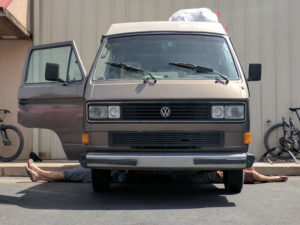 Homeward bound
The next day the true cost of lugging all that weight up a mountain in the Vanagon showed when the fuel pump started buzzing super loud. Not wanting to end up on the side of the highway, and finding a replacement in stock, we decided to spend Easter morning putting a new fuel pump in. It seems we hooked it up right because it's still running a week later!
(Hover over for color)