Sufferfest 2016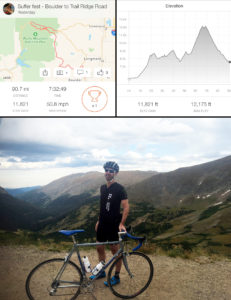 Ever get an itch to go ride something stupid? I like taking road bikes on dirt, and I used to do laps on Peak to Peak highway when I was racing a lot, so when I heard there was a dirt road in Rocky Mountain National Park I started getting excited about a high altitude ride.
I don't know why I was excited about it – I hadn't ridden my road bike in a while and I definitely hadn't done 6,000 feet of continuous climbing. But whatever, it seemed like it'd be a good time or a good story, so I started pedaling.
Jamestown
I picked up a friend on my way out of Boulder and started pedaling towards Jamestown. Getting started on a ride like that can be one of the hardest parts but meeting a friend forced me to leave on time. The ride up to Jamestown went smoothly and I was feeling strong as the grade kicked up on Super James. I could see a group of 3 riders in front of me on the straight sections – they were so close I could even make out parts of their conversation – but I couldn't catch them! All the way up Super James, through the hairpin left, across the steep run out section they unknowingly teased my ego.
Where Jamestown turns to dirt though I quickly caught up and recognized them as some of the former Excel guys from the Bus Stop rides in Boulder. We rode together towards Peak to Peak and I was happy for the wind break and mental distraction that riding in a group provides. I hoped they were going north, but when we reached the highway they headed towards Nederland, leaving me to fend for myself.
There were a couple blasts of wind that worried me on the way to Estes Park, but overall it was a pleasant ride and I even stopped in a little general store for a popsicle since things were going so well.
Too much food
In Estes Park I stopped for lunch and ate WAY too much. I don't know what I was thinking – probably just that all the food in front of me looked really good – but as soon as I got in the saddle I knew I had overindulged. A few miles up the road at the entrance to RMNP I just pulled over, walked into the woods, and laid down for a while. I have no problem admitting that to the world – sometimes ya just have to take a 20 minute nap.
Fall River Road
Turns out my target – Fall River Road – is pretty steep after hours of pedalling. It was a gorgeous ride with minimal traffic in comparison to the rest of the Park on a busy Saturday, but I was falling apart. I was cramping, I couldn't drink enough water, my focus was gone. I had even released my brakes on the off chance they were rubbing, even though we all know they weren't.
Pavement!
I made it to the Alpine Visitor Center completely shattered. I seriously considered hitching back to Estes Park, but I hadn't made it to the highest point in the road and I thought it'd be a waste to ride that far and fall just a few hundred (vertical) feet short. With extreme resentment I climbed back on my bike and coasted out of the visitor center parking lot.
It was like a switch had been thrown – a slight tail wind combined with the low rolling resistance of actual pavement had me feeling like I was flying. I was very careful to make sure I didn't crack again cause I didn't think I could come back from that, but I was pushing up to that line and loving the sound of the chain dropping down my cassette as I pushed for the top.
I was so excited when I finally crested the summit I did a little air boxing before zipping up my jacket. It felt amazing to coast downhill after a day of climbing, but nothing can be perfect and it got surprisingly cold as the sun set.
The original plan was to ride to my friend's family ranch a couple miles outside Estes Park, but I couldn't make it past town and requested a pickup. I'll probably do the ride again now that it's a known quantity, but damn that was a sufferfest.
Check out the Strava profile here.