Hitch Hikers in Iceland and Pedaling Around Copenhagen
I got the opportunity to attend a conference in Copenhagen this fall and to make it even sweeter the flight there had a long layover in Iceland. That's the kind of thing I sign up for immediately. Packing was a bit difficult as I was planning on hiking around Iceland, going to a professional event in Copenhagen, and then exploring Lebanon. I would encounter cold and wet weather, hot and dry weather, a beach, a business-casual event, and I wanted to bring running gear so I could maintain some semblance of fitness.
Of course I reached for some Conation apparel. A merino wool v-neck fit into a lot of circumstances. I could wear it under my sport coat for the "creative professional" look, go for a run or hike in it, it could even double as a towel if needed. I also packed the plaid western jersey – casual enough to wear walking around Beirut but the collar made it fit in at the business dinners. And Conation's black riding shorts are perfect for lazy lounging in a hostel or running, and they dry fast enough to double as board shorts for surfing. I had some other clothes, but Conation apparel is versatile enough that it made up most of my wardrobe for a month.
Iceland
I landed in Iceland at 6am and quickly made my way to the car rental place, through a cold, misting rain with gusty winds. I only had 19 hours in the country and I was looking forward to exploring, but I was also excited about having a warm car.
About 5 minutes into my drive I passed someone walking along the side of the highway. He was clearly prepared for bad weather with his hiking rain gear, but it still looked rather miserable so I pulled over and offered a ride. He introduced himself as Lukas from the Czech Republic, and he was setting out to hike through some of the backcountry. Since neither of us had much of a plan we agreed to drive around together for a while.
I feel like I did just about all that I could have with the amount of time I had there – pet a couple horses hanging out along side the road, found someone's drone for them, watched a couple geysers go off, drove a bunch of dirt roads including one that looked like it'd be washed away by the sea at a moments notice, and ate some simply wild food. And we got absolutely soaked hiking around a couple waterfalls, which let me test out the merino jersey's ability as a towel. I dropped Lukas off at some hot springs so he could go find a camping spot for the night and headed back to the airport for a 1am flight to Copenhagen.
Copenhagen
When I arrived in Copenhagen I made my way to a small yoga-based hostel in Vesterbro. Their small cubby-style beds made it the perfect place to take an accidental 5-hour nap. At least I wasn't jet-lagged anymore. I spent the first two days walking around the city, exploring random nooks that looked interesting as I walked by without any plan or direction.
The conference was being held way out in the industrial dock area of Copenhagen in a way-too-hip-to-be-cool converted warehouse so it felt like the perfect opportunity to pedal across the city. I ride my bike every day on the streets of Colorado, but I was still very intimidated by the rush hour commute of the Dutch. There's so many people it's imperative to have signals and right-of-way established, and I was pretty worried I was going to mess it all up and crash out a horde of school children or something like that.
I made it to the conference without incident, but on the way home I did end up getting completely lost and found myself on the beautiful waterfront as the sun was setting.
The rest of the week in the city was taken up by exploring and learning, my two favorite things. The green Merino V-neck Jersey was equally suited for looking reasonable under a blazer or wandering through the weed vendors of "the free city of Christiana," and the Plaid Western Jersey looked at home at the conference business lunch and celebrating Octoberfest with liters of beer at the hostel. I even wore the Black Riding Shorts on runs along the Kalvebod Waves boardwalk and an area that fittingly called "The Lakes."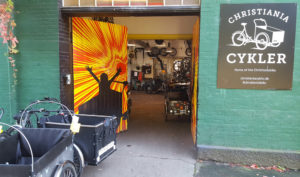 After a week of traveling through Iceland, Copenhagen, and even a day in Malmo, Sweden, it was time to get a little further from home and head to Lebanon.