Squeezing in Kenosha Pass
The days are getting shorter and the nights are getting colder, but this weekend we really thought we could get one more ride in the high country. Super Dave and I plotted a Kenosha Pass adventure and even kicked around the idea of making it all the way to Breckenridge "if we were feeling good." I had to jump start the Vanagon since it had been sitting while I galavanted around the world, but with a little juice it fired right up and we were on our way.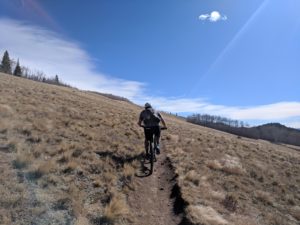 I don't know why I thought I was making it to Breck – I had spent 3 weeks at sea level without a bike, I probably wasn't going to make it 40 miles and over the Continental Divide. Dave on the other hand had recently gone to visit his grandfather in the Italian Dolomites and ridden nearly every day. Luckily for me weather was the great equalizer and after skipping through a couple ice-filled rock gardens and nearly sliding off a snowy wooden bridge, we both decided to abandon the mission. The clothing though was on point – we looked like twins running the Merino Wool Bibs, Black Riding Shorts, a Merino Wool V-neck Jersey, and the Plaid Western Shirt. It may have been silly to look so similar, but we were both very comfortable from the warm climb to the cold descent and that's what matters most.
The ride back to the car was fun but we both wanted to ride more, so we crossed 285 and explored the other side of the Colorado Trail. We built a little wedge over a fallen tree where we ate some lunch, which rode surprisingly well. But as we continued riding it really felt like we were descending. Gradually. But continuously.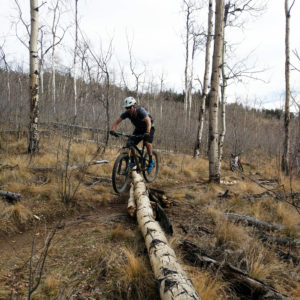 Unfortunately I was right, and the last 6 miles of our ride back to the Vanagon was almost completely uphill. Ugh. Not the welcome back to Colorado mountain biking I was looking for. It did motivate me to get back in shape, but that seems like a longer process than I'd hoped.
The only thing left to do was to get lunch at one of the strangest Colorado restaurants.